Pipe Clamps
U - CLAMPS
U-Clamps, is also known as U-bolts, are typically used for attaching pipe or steel round bar to a round wood or steel post. Another common application is to hang wrought iron pipe in mechanical installations. They can also be embedded in concrete as anchor bolts.
Information:-
| | |
| --- | --- |
| Material: | Mild Steel, High Tensile 8.8. Grade, Stainless Steel & Brass. |
| Size: | There is large variety of Sizes & Diameters or as per customer's required specification. |
| Threads: | Inch & Metric. |
---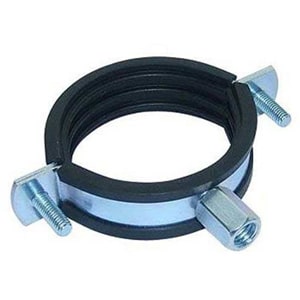 RUBBER PIPE CLAMP
A Rubber pipe clamps are typically used for the suspension of cast iron, PVC and GI pipes. Frequently specified for supporting sanitation, water supply, fire fighting, HVAC and electrical pipes. A rubber clamp has a Rubber lining for suppression of sound and vibrations and two combination head screws for tightening the clamp.
Information:-
| | |
| --- | --- |
| Material: | Mild Steel. |
| Size: | There is large variety of Sizes & Diameters or as per customer's required specification. |
| Threads: | Inch & Metric. |